Collection:

Spiral Wound Roller Brushes
Spiral Wound Roller Brushes are made by winding strip brush onto a shaft or core, they can be manufactured in stainless steel, galvanised or zinc steel backings or alternatively they can be made by fusing Synthetic Back Strip Brush together to create a 1 piece fused spiral wound roller brush.
Both Metal Backed or Synthetic Backed and can be supplied either directly onto shafts, refillable cores or can be supplied loose for fitting onto existing shafts.
Metal Backed Strip Brushes can be wound at the desired pitch to suit any application, example – for Light work it may be preferable to spread the pitch between the strip to create a less dense fill and ultimately a more flexible brush, for Heavy work or where greater pressure is required the strips can be closely wound resulting in a more dense stiffer brush.
Synthetic Backed Roller Brushes are made by fusing strip backings together creating a very light weight dense brush which is ideally suited in the food, glass and printing industries, soft or hard brush filaments can be used to create varying brush hardness depending on the customers requirements.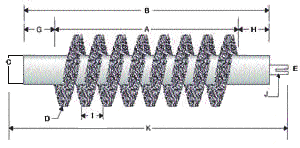 A) Brush Face
E) Brush O/Diam
H) Brush finish from end of core
B) Core Length
F) Filament material
I) Pitch or total number of turns
C) Core O/Diam
G) Brush start from end of core
J) Shaft O/Diam
D) Strip Size
A full range of filaments are available. All synthetic fibres from .005" (0.13mm) to 0.180" (3.0mm). All types of hairs, natural fibres, abrasives and wires available.
 Ideal for:
Road sweeping
Printing
Food processing
Beverage
Conveyor cleaning
Mining
Other industrial applications
To request a quote on a custom made Spiral Wound Brush, download and fill out a Custom Design Sheet for the relevant brush using the instructional video as a guide:
Spiral Wound Roller Brushes:
Loose Coil Strip Brush:
Outside Coil Strip Brush:
Inside Coil Strip Brush:
Please contact our branch closest to your location to purchase these products.